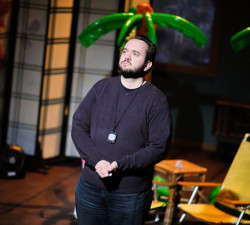 Back in 2006, while trying to raise money to do his second feature film, Matt produced a set of one-act comedies called "Angry Young Women in Low Rise Jeans with High Class Issues," in a small off-off-Broadway theater on East 4th Street in New York.  Although unsuccessful in raising the funds, "Angry Young Women" became a surprise underground hit that has run on and off for six years and counting, not only in New York, but also in Los Angeles and even in Sydney and Brisbane, Australia and it also was published by Samuel French Inc. 
This led to a successful playwriting career as Matt followed that up with "All Aboard the Marriage Hearse" and "American Soldiers" – both of which were also produced in Los Angeles and published by Samuel French. 
His latest play "The Inventor, The Escort, The Photographer, Her Boyfriend and His Girlfriend" had acclaimed six-week runs in New York and Los Angeles and…counting.
Angry Young Women In Low Rise Jeans With High Class Issues (2006)
All Aboard the Marriage Hearse (2008)
The Inventor, The Escort, The Photographer, Her Boyfriend and His Girlfriend (2011)