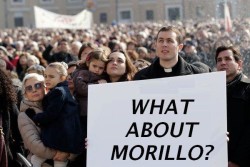 Long Island-born playwright, filmmaker, and humorist Matt Morillo has made quite a splash in the world of independent theater and film. After graduating film school, he made his debut with his feature, The Pretenders, an award-winning romantic comedy. His subsequent short films, most notably Maid of Honor, also attracted numerous awards.
He has since found the theatrical stage a very congenial venue for his writing, both short-form and long-form. His first play, Angry Young Women In Low-Rise Jeans With High-Class Issues, was a runaway hit on two continents and received a publishing deal from Samuel French, Inc. His second play, the slightly more serious All Aboard the Marriage Hearse, also received a publishing deal with Samuel French Inc. and was originally scheduled for a four-week run in New York, but positive reviews and rising attendance resulted in a two-week extension. Matt has since completed two more plays, the drama American Soldiers (also published by Samuel French Inc.) and the comedy The Inventor, The Escort, The Photographer, Her Boyfriend, and His Girlfriend both of which premiered at Theater for the New City in New York.  The one-act version of this play, The Inventor and the Escort , received rave reviews and the 2013 Teapot Award for Outstanding Theatre Performance at the Edinburgh Festival Fringe.  All of Matt's plays have been produced in New York and Los Angeles.
Most recently has launched Angry Young Women In Low-Rise Jeans With High-Class Issues: The Web Series! (based on his play of course) and you can check it out by clicking here.

BULLET POINTS – IF YOU CARE
Name:  Matthew Lawrence Morillo
Birthdate: December 20, 1975
Birthplace: Flushing, New York
Sex: whenever I get lucky.
Nationality: Irish, Polish, German, Italian, Puerto Rican, Filipino (hard to believe but apparently true)
Religion:  Raised Catholic.  Now militant anti-theist.
Raised:  Hicksville, Long Island, New York
Politics:  Hardcore Liberal  (a fiscal and social liberal who believes fervently in equal rights for all, but rejects political correctness in all its forms and does not feel the need to be polite when opponents cross the line and does not believe that all people can be reasoned with, some must be defeated)
Education:  Graduated Hicksville High School in 1994 ranked 48th in a class of about 360.  Graduated C.W. Post College in 1999 with a B.F.A. in Film.  I've taken various courses in literature, economics, sociology, playwriting, screenwriting and business to round out my education.
Favorite Movies:  Rocky, Casablanca, The Big Lebowski, Office Space, The Empire Strikes Back, Arthur, It's A Wonderful Life, The Godfather, The Godfather Part II, Chinatown, On The Waterfront, Back To The Future, The Sting, Midnight Run, Planes, Trains, And Automobiles, They Call Me Bruce, Finding Neverland, Batman Begins, The Dark Knight, The Dark Knight Rises, The Unforgiven, Manhattan, Raiders of the Lost Ark, Field Of Dreams, Airplane, History Of The World Part I, Goodfellas, Full Metal Jacket, Star Trek II: The Wrath Of Khan, Do The Right Thing.
Favorite T.V. Shows:  Cheers, Beavis and Butthead, The Big Bang Theory, Seinfeld, The Honeymooners, The Cosby Show.
Favorite Book:  The Bible
Favorite Sports & Teams:  Baseball (New York Mets), Hockey (New York Islanders), Football (New Jersey Jets and Giant but I really don't care), Basketball (Brooklyn Nets but I really don't care).
Favorite Pastime:  Writing,  Walking, Driving, Drinking, (not drinking and driving), aggravating teabaggers.
Surprising Fact:  I LOVE professional wrestling and see it as a brilliant art form that very few people can partake in.
Another Surprising Fact:  I'm considerably more attractive than you realize.