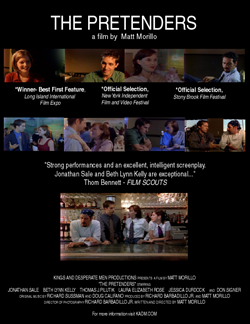 "The Pretenders" is the story of Charles and Annie, an estranged brother and sister who never considered that life lessons could actually come from each other.  Charles, the responsible one, stayed home to manage the family restaurant when his parents retired to Las Vegas.  His older sister, Annie, on the other hand, got married right out of high school and left town, escaping the local family legacy.  With her lackadaisical attitude and penchant for spontaneity, Annie apparently coasts through life.  One summer weekend will force them to face the things that they dislike about each other, and ultimately dislike about themselves.
Annie travels back home after her second marriage falls apart, wanting to pull herself together quietly.  Unfortunately, she picked the wrong weekend.  All of Charles' high school classmates, and many community families, have gathered to celebrate the engagement of local high school sweethearts.  Having agreed to cater the event, Charles is daunted by the prospect of another local gathering where he must play the local hero.
Throughout the weekend, Charles will contend with his place in this small town, his fear of leaving it, and the girl that got away because of his responsible nature.  Annie will confront the very reasons she left this small town, her fear of coming back to it, and the men upon whom she has relied to avoid responsibility for her own life.  As both Charles and Annie begin to see how the traits of the other would have better served them in making major life choices, they develop a mutual respect, and realize that it is never too late to make things right or to turn your life around.
Link to movie coming soon!!