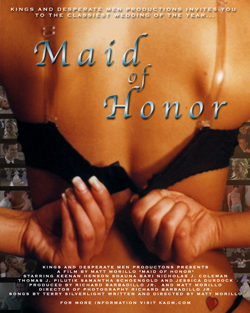 Bill never has trouble with the ladies.  He's young, handsome, charming and confident.  But Bill is a player who's about to be played.  At his co-worker's wedding, Bill hits it off with Caitlin, the maid of honor.
Caitlin has just broken up with her fiancee, and she seems to be easy prey: "A girl on rebound at a wedding, that's the easiest score in the world," says Bill.  But Caitlin has some plans of her own. She pulls Bill into an erotic, adventurous evening, making him do things he never thought he would do.
Now, Bill must decide exactly how far he will go just to score with the maid of honor.