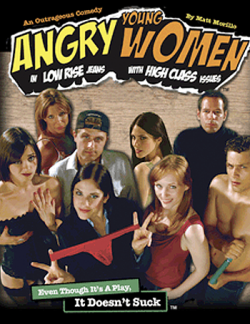 You haven't heard of
Angry Young Women In Low-Rise Jeans With High-Class Issues
?   It's the critically-acclaimed, outrageous comedy that has been a hit in New York, Los Angeles, Sydney and Brisbane, Australia….and counting.  It is  told in five outrageously funny parts and it's all about young women and the various issues they confront today.
It's part sit-com, part stand-up comedy and part sketch-comedy!
You won't find a funnier show!
To purchase a copy, to license the show or to read about its amazing history, including the upcoming Angry Young Women in Low Rise Jeans with High Class Issues: The Web Series, go to www.angryyoungwomen.net and have some fun!!!