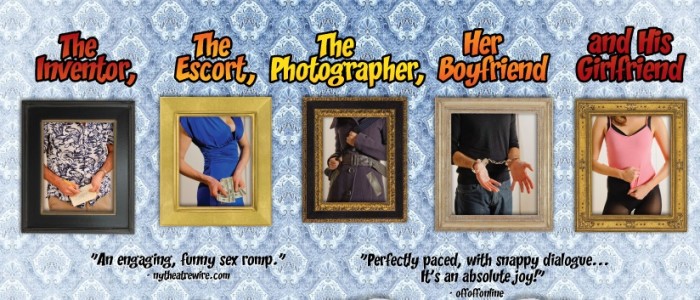 Formerly known as 
"The Inventor, The Escort, The Photographer, Her Boyfriend and His Girlfriend" exposes the saucy story of Jeffrey, Julia, Karen, John and Molly: Five New Yorkers barricaded in one apartment building during the worst blizzard in City history…looking for love, lust and liquor in all the wrong places!
In a downstairs apartment, Julia, a call girl, arrives for an appointment with Jeffrey, a reclusive young man who has gotten rich by inventing best-selling sexual devices. What starts as a routine "trick" with trimmings (fake palm trees, suntan lotion and lots of margaritas) ends up with Jeffrey and Julia helping each other uncover the wounds that led them to who they are, getting considerably more than they bargained for on this "first date."
They are juxtaposed with the upstairs neighbors, John and Karen, an estranged couple, settling in for a sweet reconciliation after an agreed-upon break.  John's a flagrant philanderer Karen's a secret one; she had allowed him an outside affair, knowing his nature. Their plans go awry when Molly, a nubile young modern dancer whom John had dallied with, arrives to take refuge from the blizzard with him.  The reconciliation between John and Karen turns into an outrageous evening of drunkenness, accusations and revelations.
It's a great night of entertainment about the taboo things that make our worlds go 'round. (You know, prostitution, infidelity, strawberry margaritas, bad 80's movies, role playing and sexual recreational equipment!)
Want to put on a production of The Inventor, The Escort, The Photographer, Her Boyfriend, and His Girlfriend?!! Email Us for licensing information.