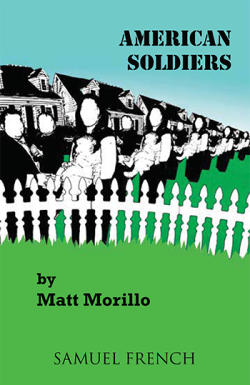 In American Soldiers, the patriarch of a politically prominent Long Island family fights to hold the family together when his eldest daughter, Angela, an Army veteran, returns from the Middle East for an uneasy homecoming.  Angelal, emotionally scarred from her military service, is struggling to take her ex-boyfriend and sister away with her to start a new life in Colorado.  Her aim is to liberate them of the hometown influences of society, religion and class that led her to enlist. 
The force of her rebellion is set against the determination of her father, a Vietnam Veteran who is equally committed to holding the family together.  His methods range from the good old fatherly temper tantrum to the kind of heart-to-heart with his soldier-daughter that only veterans can have.  Through their tug of war, we witness the real forces that keep many of our young people fighting what Angela calls, "the same fight, generation after generation.
Want to put on a production of American Soldiers?!!  Just go to Samuel French or call (212) 206-8990 for licensing information.